Anritsu Americas Sales Company has added Takasago products in their distribution product line.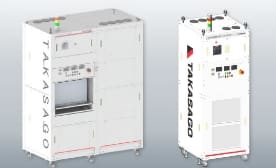 Kawasaki, Japan - Oct. 1, 2023 - TAKASAGO, LTD., a subsidiary of Anritsu Corporation, has reached an agreement with Anritsu Americas Sales Company, North American sales company of Anritsu Group to start carrying Takasago products in U.S.A. and Canada, strengthening its sales and customer support function in stages. Takasago aims to provide our high voltage, large capacity, and flexibly controllable power supply equipment to customers in North America where ICE (internal combustion engine) is being rapidly replaced with electrified powertrain. Through this initiative, we hope to be a part of global effort for realizing carbon neutral society.
About Anritsu Americas Sales Company
Anritsu is a provider of innovative communications test and measurement solutions. Anritsu engages customers as true partners to help develop wireless, optical, microwave/RF, and digital solutions for R&D, manufacturing, installation, and maintenance applications, as well as multidimensional service assurance solutions for network monitoring and optimization. Anritsu also provides precision microwave/RF components, optical devices, and high-speed electrical devices for communication products and systems. The company develops advanced solutions for emerging and legacy wireline and wireless technologies used in commercial, private, military/aerospace, government, and other markets.

Anritsu Worldwide | Anritsu America